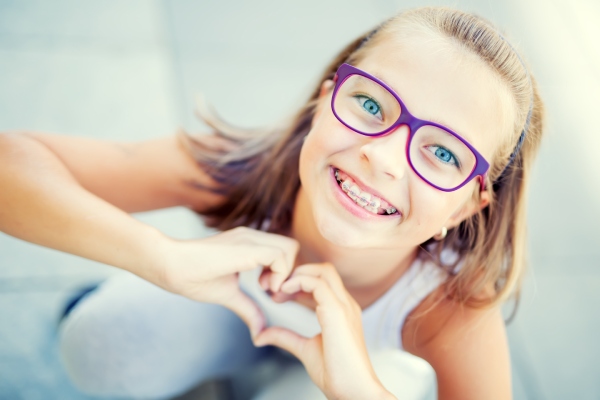 Seven years. That's the age children should be when they start visiting an orthodontist.
That probably seems a bit young to start thinking about braces. After all, we usually see Junior high kids with brackets and wires in their mouths. But starting early is all about prevention. An orthodontic consultation for kids as young as seven emphasizes function over form and providing a healthy space for adult teeth to erupt and develop and airway.  Think of it like a complimentary yearly check-up — a chance for your orthodontist to catch any underlying issues before they become serious problems.
Even though your child's smile isn't fully developed, your orthodontist can map out a long-term treatment plan to anticipate and get ahead of any challenges caused by overbites, crowded teeth, or alignment issues.  For many parents, this is surprising. After all, it's a screening by an actual orthodontist at no cost to the parent to help oversee development and prevent functional issues from growing unchecked.  Maybe your child is already older than seven years old and is overdue for their first orthodontic consultation.  Good news! It's never too late to get ahead of and prevent future issues!
Our Ultimate Guide to Braces for Kids will walk you through the entire process and fill you in on key details that will make your kid's smile that much brighter.
What are the 5 stages of braces?
The orthodontic process is rather straight-forward, consisting of various treatment options based on what's going on with your kid's teeth. Here's a brief overview of the five phases of braces (fixed appliance orthodontic treatment) so you — and your kids — will know what to expect.
Phase 1: The consultation
This is arguably the easiest part. Your kids' first visit will be relatively simple, with a dental and bite exam followed by a discussion about our shared orthodontic goals. You'll get all the information you need to prepare for any necessary treatment based on the exam results. This is an excellent opportunity to ask any questions you may have and walk through the different options, like traditional kids braces vs. aligner therapy.
Phase 2: The procedure
The next step is getting the braces put on your kid's teeth. The great thing about this part is that it doesn't hurt — no needles, no drills, and no pain. But it does take time to properly prepare the patient, get each bracket positioned correctly, run the wires, and make sure everything is poised for efficiency and accuracy. Length varies, but we recommend blocking out one or two hours, depending on the type of braces your kid will wear.
Phase 3: The follow-ups
Before you leave the office after getting your kid's braces placed, you'll get a full rundown of care. Brushing and flossing are more important with braces, so understanding the proper technique is critical. We'll also discuss the foods that should be considered off-limits until the braces are removed:
Chewy candies
Popcorn
Chewing gum
Pretzels and other chips
Crackers
Many parents ask how long kids wear braces. The length of time depends on the issues you're trying to fix, but the average is about two years. Between placement and removal, you'll need to do regular visits for tightenings and adjustments.
Phase 4: The removal
Believe us when we say that the wait is absolutely worth it. If all goes well, and your kid's orthodontist has no pressing concerns, the de-banding appointment should come quickly. Removing braces or aligner attachments is painless but can take up to an hour, afterward revealing the stunning results.
Phase 5: The retainer 
For most kids, the use of a retainer will be necessary to ensure their teeth don't digress and slip back into their old positions. Your orthodontist will provide the retainer for you with instructions on use and care. Usually, retainers should be every night, cleaned regularly, and kept in a case when not in use.
Get braces for your kids at Bergen Orthodontics.
At Bergen Orthodontics, our board certified and ivy league trained orthodontists mix our years of experience with a patient-first approach to ensure you and your family have a great experience. Our braces for children are designed with the safest and most durable materials, so you get the results you're looking for.